Infected Mushroom es un dúo de psytrance israelí formado por los israelies Erez Aizen y Amit Duvdevani (conocido como Duvdev) que ha ganado una gran popularidad en los últimos años desde 1999 al presente (2008). Desde su formación en Tel-Aviv, el grupo conserva el estilo de su primera grabación en 1999 The Gathering apreciándose una constante evolución acústica en las siguientes publicaciones Classical Mushroom (2000), BP Empire (2001) y Converting Vegetarians (2003). El álbum Im the supervisor (2004) contiene uno de los más grandes éxitos conseguidos hasta el momento de Erez y Duvdev, permitiéndoles presentarse en lugares donde quizás ellos no se imaginaban llegar desde el inicio de su carrera y vendiendo miles de álbumes, algo inusual para el Psytrance en general. Actualmente se encuentran en una gira celebrando 10 años como Infected Mushroom,en la cual se ha unido un baterista proveniente de Brasil, llamado Rogelio Jardim y un Dj especial para dicha gira. Otro de los integrantes no oficiales de Infected Mushroom es el ya afamado Erez Netz, uno de los guitarristas más importantes en Israel y en otros shows un guitarrista apodado "Jimmy".
A inicios del año 2007 ha publicado un nuevo álbum Vicious Delicious.

Erez y Duvdev sacaron varios temas como "Shidapu & Duvdev". Comenzaron a investigar nuevas formas musicales entremezclando temas suaves y chillantes e intensos hasta llegar a lo que son conocidos hoy "Infected Mushroom".
Este dúo ha impactado al mundo entero con varios álbumes que han tocado hondo en los escenarios electrónicos mundiales. El disco "The Gathering" ocupó uno de los primeros lugares de "most played trance álbum" (álbum trance más tocado) el mejor inicio que puede pedir cualquier banda que se inicia en cualquier tipo de música.
Infected Mushroom evoluciona con el tiempo, desde su primer álbum "The Gathering", algo que tenían ganas de hacer y les salió genial, publicando a continuación "Classical Mushroom", después su tercer álbum "BP Empire", suiguiendo con el completo "Converting vegetarians" y terminando de momento con el "Im the supervisor". Ahora pasan por una etapa de relajación estudiando nuevas músicas para adquirir conocimientos y aplicarlo a su estilo, por ejemplo letras y cosas parecidas, aunque su finalidad es seguir haciendo música electrónica y terminando en esa línea más que como banda de trance.
En el año 2004, el grupo deja las afueras de Tel Aviv para instalarse en Los Ángeles, con el fin de acercarse a su público más numeroso (en América del Sur y en América del Norte), y para realizar un nuevo álbum en un estudio mas equipados.



Discografia
The gathering (1999)
01. Infected Mushroom - Release Me
02. Infected Mushroom - The Gathering
03. Infected Mushroom - Return Of The Shadows
04. Infected Mushroom - Blue Muppet
05. Infected Mushroom - Psycho
06. Infected Mushroom - Montoya (Remix)
07. Infected Mushroom - Tommy The Bat
08. Infected Mushroom - Virtual Voyage
09. Infected Mushroom - Over Mode
PASS: www.polaxia.comcepock
Classical
Mushroom (2000)
01. Infected Mushroom - Bust a Move
02. Infected Mushroom - None of This Is Real
03. Infected Mushroom - Sailing in the Sea of Mushroom
04. Infected Mushroom - The Shen
05. Infected Mushroom - Disco Mushroom
06. Infected Mushroom - Dracul
07. Infected Mushroom - Nothing Comes Easy
08. Infected Mushroom - Mush Mushi
09. Infected Mushroom - The Missed Symphony


Bp Empire (2001)
01. Infected Mushroom - Never Ever Land
02. Infected Mushroom - Unbalanced (Baby Killer Remix)
03. Infected Mushroom - Spaniard
04. Infected Mushroom - BP Empire
05. Infected Mushroom - Funchameleon
06. Infected Mushroom - Tasty Mushroom
07. Infected Mushroom - Noise Maker
08. Infected Mushroom - P.G.M
09. Infected Mushroom - Dancing With Kadafi
PASS: www.polaxia.comcepock

Converting Vegetarians (2003)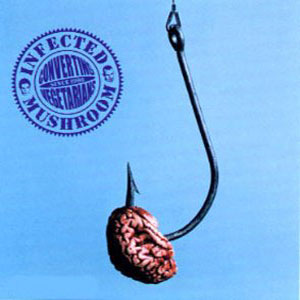 Disc 1
01. Infected Mushroom - Albibeno
02. Infected Mushroom - Hush mail
03. Infected Mushroom - Apogiffa night
04. Infected Mushroom - Song pong
05. Infected Mushroom - Chaplin
06. Infected Mushroom - Economix
07. Infected Mushroom - Scorpion frog
08. Infected Mushroom - Deeply disturbed
09. Infected Mushroom - Semi nice
10. Infected Mushroom - Yanko pitch
PASS: www.polaxia.comcepock
Disc 2
01. Infected Mushroom - Converting vegetarians
02. Infected Mushroom - Elation station
03. Infected Mushroom - Drop out
04. Infected Mushroom - Avratz
05. Infected Mushroom - Blink
06. Infected Mushroom - Shakawkaw
07. Infected Mushroom - Pletzturra
08. Infected Mushroom - I wish
09. Infected Mushroom - Ballerium
10. Infected Mushroom - Selec ta
11. Infected Mushroom - Illuminaughty
12. Infected Mushroom - Jeenge
13. Infected Mushroom - Elevation
PASS: www.polaxia.comcepock
IM The Supervisor (2004)
01. Infected Mushroom - IM The Supervisor
02. Infected Mushroom - Ratio Shmatio
03. Infected Mushroom - Muse Breaks (Remix)
04. Infected Mushroom - Meduzz
05. Infected Mushroom - Cities Of The Future
06. Infected Mushroom - Horus The Chorus
07. Infected Mushroom - Frog Machine
08. Infected Mushroom - Noon
09. Infected Mushroom - Bombat
10. Infected Mushroom - Stretched
PASS: www.polaxia.comcepock
Vicious Delicious (2007)
01. Infected Mushroom - Becoming Insane
02. Infected Mushroom - Artillery
03. Infected Mushroom - Vicious Deliciou
s04. Infected Mushroom - Heavyweight
05. Infected Mushroom - Suliman
06. Infected Mushroom - Forgive Me
07. Infected Mushroom - Special Place
08. Infected Mushroom - In Front Of Me
09. Infected Mushroom - Eat It Raw
10. Infected Mushroom - Change The Formality
11. Infected Mushroom - Before

PASS: www.polaxia.comcepock